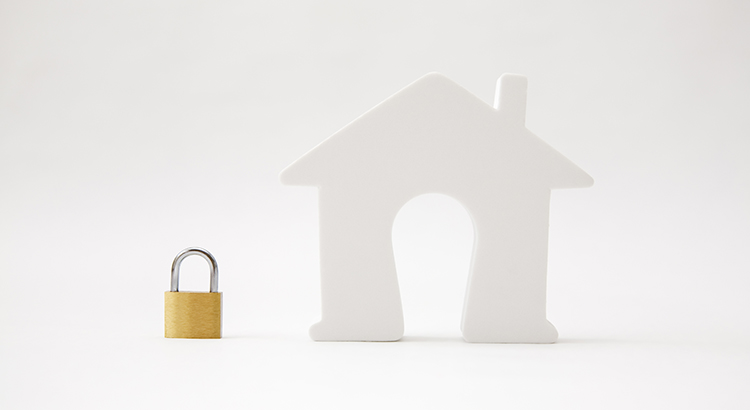 With the strength of the current housing market growing every day and more Americans returning to work, a faster-than-expected recovery in the housing sector is already well underway. Regardless, many are still asking the question: will we see a wave of foreclosures as a result of the current crisis? Thankfully, research shows the number of foreclosures is expected to be much lower than what this country experienced during the last recession. Here's why.
According to Black Knight Inc., the number of those in active forbearance has been leveling-off over the past month (see graph below):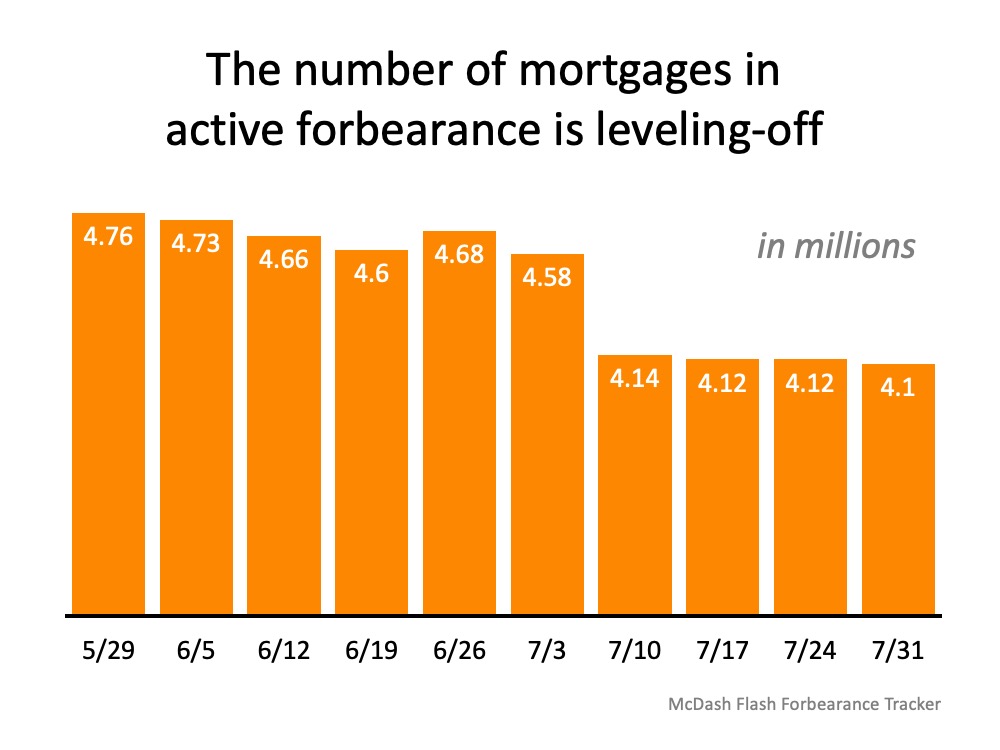 Black Knight Inc. also notes, of the original 4,208,000 families granted forbearance, only 2,588,000 of these homeowners got an extension. Many homeowners have once again started to pay their mortgages, paid off their homes, or never went delinquent on their payments in the first place. They may have applied for forbearance out of precaution, but never fully acted on it (see graph below):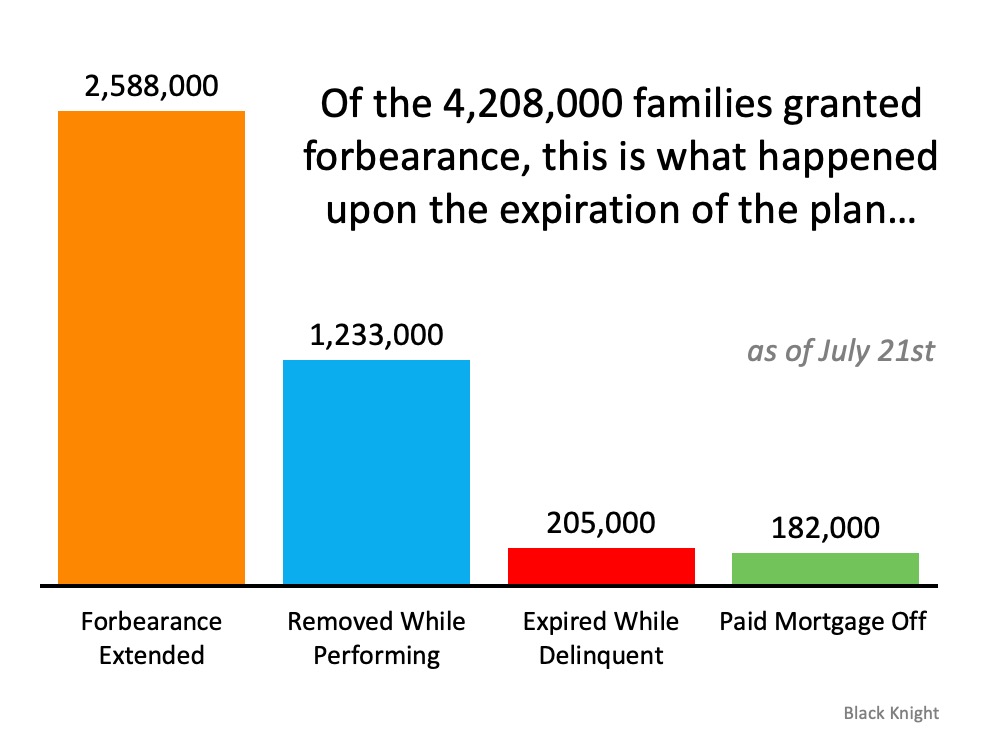 The housing market, and homeowners, therefore, are in a much better position than many may think. Much of that has to do with the fact that today's homeowners have more equity than most realize. According to John Burns Consulting, over 42% of homes are owned free and clear, meaning they are not tied to a mortgage. Of the remaining 58%, the average homeowner has $177,000 in equity. That number is keeping many homeowners afloat today and giving them options to avoid foreclosure.
While ATTOM Data Solutions indicates that there is a potential for the number of foreclosures to increase throughout the country, it's important to understand why they won't rock the housing market this time around:
"The United States faces a possible foreclosure surge over the coming months that could more than double the number of households threatened with eviction for not paying their mortgages."
That number may sound massive, but it is actually much smaller than it seems at first glance. Today's actual quarterly active foreclosure number is 74,860. That's over 7.5x lower than the number of foreclosures the country saw at the peak of the housing crash in 2009. When looking at the graph below, it's clear that even if the number of quarterly foreclosures today doubles, as ATTOM Data Solutions indicates is a possibility (not a given), they will only reach what historically-speaking is a normalized range, far below what up-ended the housing market roughly 10 years ago.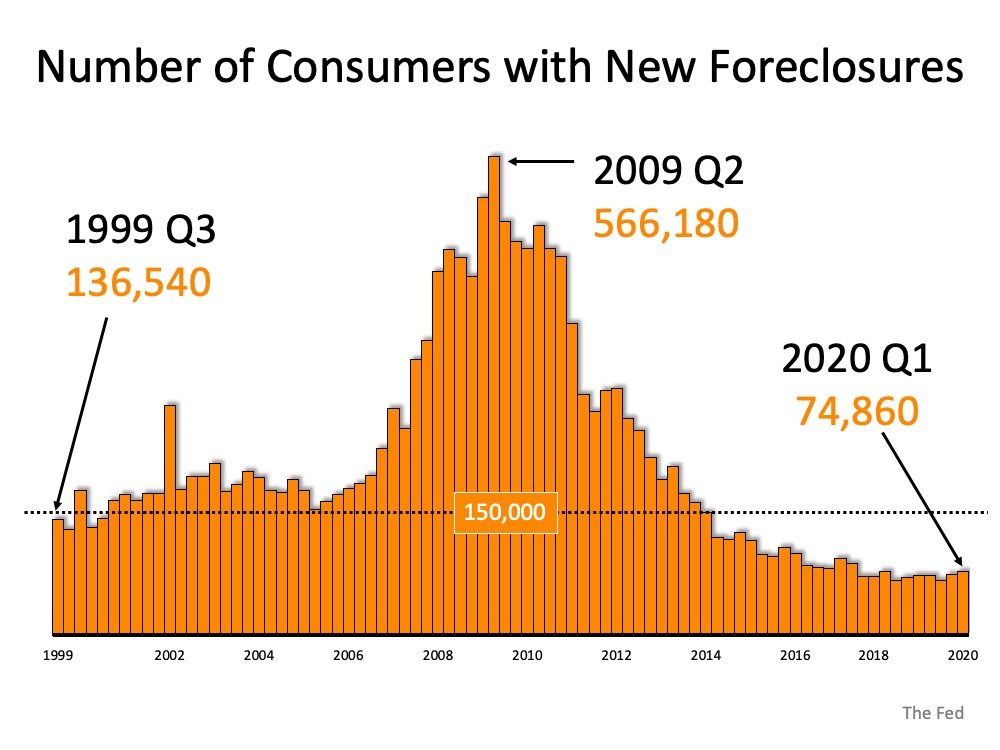 Equity is growing, jobs are returning, and the economy is slowly recovering, so the perfect storm for a wave of foreclosures is not realistically in the housing market forecast. As Odeta Kushi, Deputy Chief Economist for First American notes:
"Alone, economic hardship and a lack of equity are each necessary, but not sufficient to trigger a foreclosure. It is only when both conditions exist that a foreclosure becomes a likely outcome."
While our hearts are with anyone who may end up in foreclosure as a result of this crisis, we do know that today's homeowners have more options than they did 10 years ago. For some, it may mean selling their house and downsizing with that equity, which is a far better outcome than foreclosure.
Bottom Line
Homeowners today have many options to avoid foreclosure, and equity is surely helping to keep many afloat. Even if today's rate of foreclosures doubles, it will still only hit a mark that is more in line with a historically normalized range, a very good sign for homeowners and the housing market.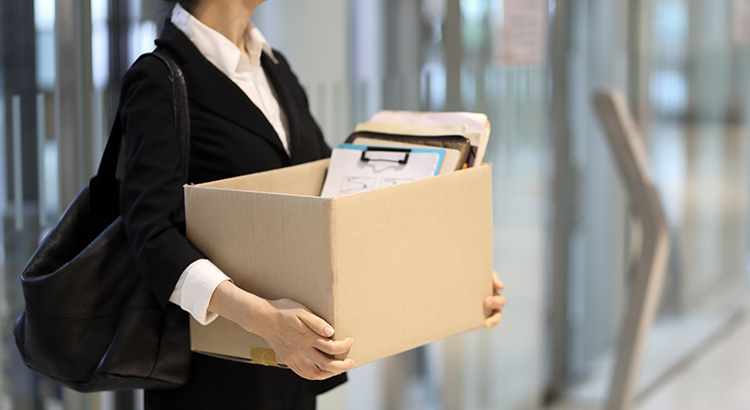 Ten million Americans lost their jobs over the last two weeks. The next announced unemployment rate on May 8th is expected to be in the double digits. Because the health crisis brought the economy to a screeching halt, many are feeling a personal financial crisis. James Bullard, President of the Federal Reserve Bank of St. Louis, explained that the government is trying to find ways to assist those who have lost their jobs and the companies which were forced to close (think: your neighborhood restaurant). In a recent interview he said:
"This is a planned, organized partial shutdown of the U.S. economy in the second quarter. The overall goal is to keep everyone, households and businesses, whole."
That's promising, but we're still uncertain as to when the recently unemployed will be able to return to work.
Another concern: how badly will the U.S. economy be damaged if people can't buy homes?
A new concern is whether the high number of unemployed Americans will cause the residential real estate market to crash, putting a greater strain on the economy and leading to even more job losses. The housing industry is a major piece of the overall economy in this country.
Chris Herbert, Managing Director of the Joint Center for Housing Studies of Harvard University, in a post titled Responding to the Covid-19 Pandemic, addressed the toll this crisis will have on our nation, explaining:
"Housing is a foundational element of every person's well-being. And with nearly a fifth of US gross domestic product rooted in housing-related expenditures, it is also critical to the well-being of our broader economy."
How has the unemployment rate affected home sales in the past?
It's logical to think there would be a direct correlation between the unemployment rate and home sales: as the unemployment rate went up, home sales would go down, and when the unemployment rate went down, home sales would go up.
However, research reviewing the last thirty years doesn't show that direct relationship, as noted in the graph below. The blue and grey bars represent home sales, while the yellow line is the unemployment rate. Take a look at numbers 1 through 4: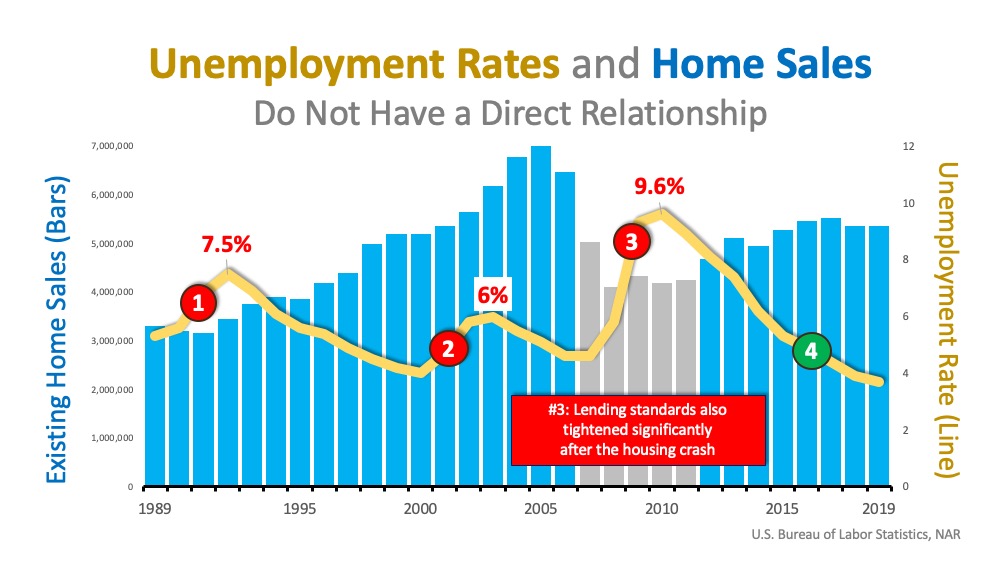 The unemployment rate was rising between 1992-1993, yet home sales increased.
The unemployment rate was rising between 2001-2003, and home sales increased.
The unemployment rate was rising between 2007-2010, and home sales significantly decreased.
The unemployment rate was falling continuously between 2015-2019, and home sales remained relatively flat.
The impact of the unemployment rate on home sales doesn't seem to be as strong as we may have thought.
Isn't this time different?
Yes. There is no doubt the country hasn't seen job losses this quickly in almost one hundred years. How bad could it get? Goldman Sachs projects the unemployment rate to be 15% in the third quarter of 2020, flattening to single digits by the fourth quarter of this year, and then just over 6% percent by the fourth quarter of 2021. Not ideal for the housing industry, but manageable.
How does this compare to the other financial crises?
Some believe this is going to be reminiscent of The Great Depression. From the standpoint of unemployment rates alone (the only thing this article addresses), it does not compare. Here are the unemployment rates during the Great Depression, the Great Recession, and the projected rates moving forward: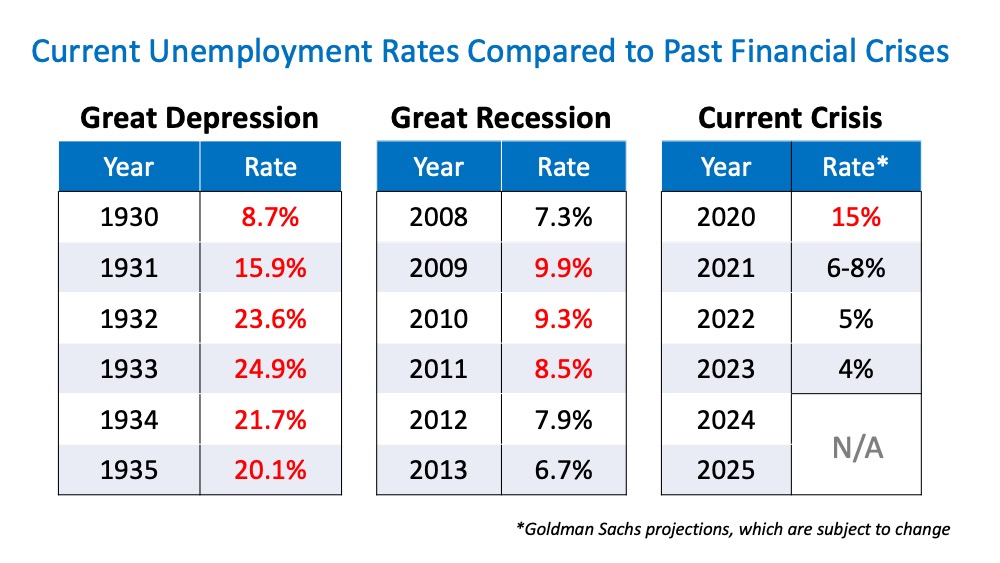 Bottom Line
We've given you the facts as we know them. The housing market will have challenges this year. However, with the help being given to those who have lost their jobs and the fact that we're looking at a quick recovery for the economy after we address the health problem, the housing industry should be fine in the long term. Stay safe.