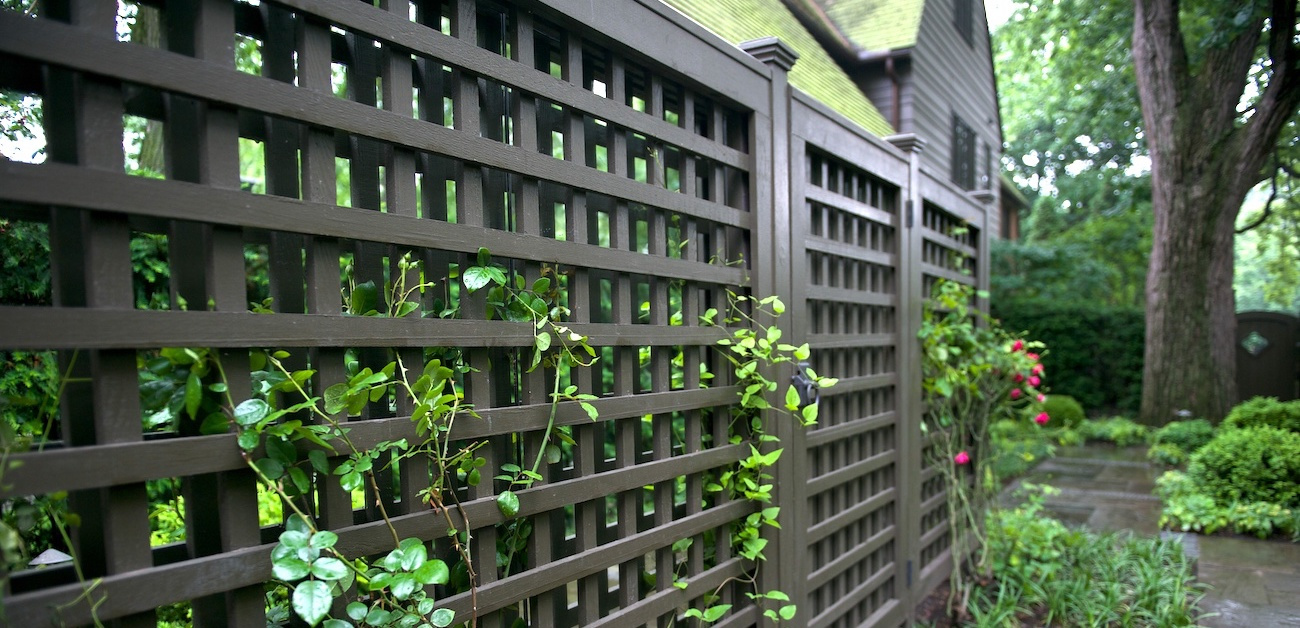 Another sign of the pandemic's influence on home renovations is the increased construction of fences. Here are seven factors homeowners should consider before installation.
Key Takeaways:
Homeowners must look up municipal regulations before installing a fence.
Latticework and horizontal boards are popular contemporary fence styles.
Darker, neutral-colored fencing can make a garden pop and add curb appeal.
---
Whether to keep newly adopted dogs safe or to increase privacy while making greater use of the backyard, the home renovation frenzy spurred by the pandemic has led many homeowners to put up a fence.
With more than 320 million linear feet of residential fencing in the U.S., fences with the right style, color, and height can boost curb appeal and help sales, according to Maryland-based Home Innovation Research Labs, which conducts research on building trends and is owned by the National Association of Home Builders.
"People have spent more time at home during the pandemic and devoted some of their travel and restaurant budgets to outdoor living," says Ed Hudson, director of Home Innovation Research Labs. He attributes the increased interest to a desire for privacy, showed by an increase in average fence height from 6 feet to 6 ¼ feet over the last year. Landscape architect Ryan Kettelkamp dubbed the fence he and wife and business partner Claire installed on their Evanston, Ill., property "fortress Kettelkamp."
But the question looms: Do fences make good neighbors as Robert Frost wrote in his poem, "Mending Fences"? Yes, as long as certain criteria are met, including how well they are constructed and maintained, says Summit, N.J., area Compass salesperson Stephanie Mallios. "A chain link fence wouldn't appeal to most in our area," says Mallios.
Despite the difficulty finding lumber and spending more for materials during the pandemic, new sources from places like China—and new materials, like welded wire panels from farm supply stores—are helping meet fencing demands, Kettelkamp says.
If your clients are considering installing a fence, offer them these seven considerations and suggest they gather more information from the American Fence Association and its list of AFA contractors.
1. Placement. Before putting up a fence, homeowners should study their property survey to know where a fence belongs. Some homeowners might ask a neighbor if they want to split the cost.
2. Height. Most municipalities regulate residential fence heights—some won't allow one around the front yard. Cities are also likely to weigh in on fences within the property, such as those enclosing a swimming pool. Homeowners should check their local regulations for specifics.
3. Style. The style and detailing—including pickets, backer rails, caps, and latticework—reflect a personal preference that generally relates to the home's style, Kettelkamp says. Many big box and garden stores sell readymade pieces, while custom work can be fashioned that can add novel details. The most popular style is vertical boards, says Hudson. However, Kettelkamp is seeing more boards installed horizontally, which adds a modern flair.
4. Material. There is a wide variety of choices, from wrought iron to pressure-treated wood, cedar, or ipe (similar to teak), plastics such as vinyl, and faux woods like Trex and Azek. Each offers its own pros and cons, including different prices to different degrees of durability and sustainability. For example, wrought iron won't require as much care as painted wood, and certain materials can be treated with a water repellent to resist warping and prevent animal damage, according to the AFA. Certain woods are also more common in various parts of the country—hence, their cost may be less. The most popular type of fence is treated wood, typically Southern yellow pine that is rot resistant. In recent years, there's been an uptick in popularity of plastic due to price and supply chain disruptions of lumber, Hudson says. Vegetative trees and bushes can work as a natural fence, though homeowners should be aware of the need to buy them large enough to be a screen and then to water, feed, and trim them.
5. Installation. Some homeowners may not know that there's fence etiquette that refers to the "good side," which looks more finished than the "bad" or "rough side" with construction showing, according to The Fence Authority. To be a good neighbor, the finished side should face toward a neighbor. Some fences are identical on both sides, thus eliminating the problem.
6. Color. Many homeowners prefer to borrow a color from their home's exterior, a strategy that color expert Amy Wax of Your Color Source in Montclair, N.J., suggests so conflicting shades aren't distracting. "If there is a softer color in the palette of the home that is in the neutral family, a soft greige, light gray, or even a medium gray, apply that color to the fence so it will tie into the colors of the house without taking away from the home," Wax says. "Another option," she says, "is a darker option that will disappear." While black has become popular, she suggests a hue in the bronze family or charcoal gray. Kettelkamp likes black because he finds it makes a garden pop.
7. Price. Most costs have gone up during the pandemic as materials have become scarcer, particularly wood. Certain woods have always been more expensive than others—for example, Western red cedar is more than Southern yellow pine. A stock cedar fence will run about $50 a linear foot, Kettelkamp says, while a custom design can jump from $200 to $250 for the same size. Metals, too, can be pricey. Kettelkamp has found wrought iron runs in the $20 to $25 range per linear foot for a readymade fence, but a custom one can climb to $250 or more.
When a Site is Rural
In more rural areas, "if homeowners need to keep in dogs or kids, often it's just livestock type fencing—steel posts with wire or livestock panels that are used," according to landscape designer Laurie Van Zandt of The Ardent Gardener in Huntsville, Utah. "This way, views are preserved, and the feeling is more open." Even in cases of new construction in her area, where there are communities that have CC&Rs (covenants, conditions, and restrictions), they usually don't allow fencing to preserve views, Van Zandt says. In addition, she says, "properties tend to be pretty large, an acre or more, so it would be pretty prohibitive to install fencing."